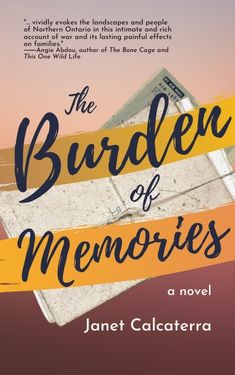 The Burden of Memories


Fiction
Pub Date: May 14, 2022
5.5 X 8.5 in | 204pgs 
Trade Paperback: 9781988989457  
e-pub: 9781988989563
Janet Calcaterra vividly evokes the landscapes and people of Northern Ontario in this intimate and rich account of war and its lasting painful effects on families.
The Burden of Memories
reveals the power of the right words and the full truth to (eventually) transform sorrow into gratitude.
⸺Angie Abdou, author of
The Bone Cage
and
This One Wild Life.
"Calcaterra explores the secrecy and myth most families develop over loss with poise, maturity and sensitivity."
⸺Barry

Grills, author of
Every Wolf's Howl
Janet Calcaterra patiently unknots a family's central tragedy, prying away the layers of secrecy, denial, and reticence that keep two daughters and their mother from facing a heartbreaking loss.
⸺ Jennifer

 Rouse Barbeau, author of Dying Hour
A powerful family drama about fractured lives, secrets, addiction and ultimate reinvention
In 1995, sisters Adrienne and Cass unravel the mystery behind their father, Dr. Alexander Muir, a doctor during the Italian Campaign in World War II's  and later a psychiatrist. As children they barely recall the sudden death of their father, but, through a series of family letters, they learn, despite their mother's best efforts, that their father suffered from PTSD due to war time experiences and died by his own hand. While their mother is ashamed of her late husband's downfall, the sisters find learning about their father cathartic, inspiring them to move forward
with their lives.

About the Author
Janet Calcaterra is an author who has lived with MS since her twenties. Her work has appeared in The Globe and Mail, Sulphur, Reaching Beyond the Saguaros, Cannery Row Magazine, the anthologies Imagination in Action and Gateways and elsewhere. She is a graduate of the MFA program in Creative Writing from Fairleigh Dickinson University. Prior to retiring to write full time, she worked as a bank teller, a kindergarten teacher, a life-skills instructor, an archivist and museum curator, and both a college and university-level creative writing instructor. The Burden of Memories is her first novel. Currently, she lives in North Bay, Ontario, with her husband. Her adult daughters live nearby.

---
---
More from this collection