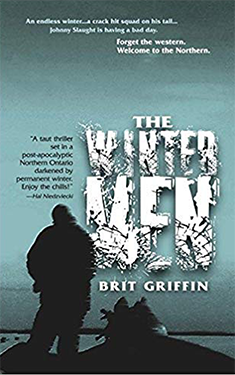 The Wintermen
Fiction Dystopian
Pub Date: September 30, 2018
5.5 X 8.25 in | 304 pgs
Trade Paperback: 9780995823556
e-pub: 9781988989136
"A taut thriller set in a post-apocalyptic Northern Ontario darkened by permanent winter. Enjoy the chills!"

- Hal Niedzviecki, Author of "Tress on Mars: Our Obsession With the Future" and co-founder of Broken Pencil
"Brit Griffin's The Wintermen is crazy fun. Terrific hard boiled flow to the prose and solid northern elements added to a classic genre. Griffin's got it pitch perfect."
- Tony Burgess, Author and screenwriter at Pontypool
The Wintermen is a near-future western, with snow machines riding into town and a showdown in the snow. Johnny Slaught and his Algonquin buddy Chumboy Commando didn't set out to lead one of the most notorious bands of rebels in recent history. But after the world descended into climate change chaos, the government did some serious triage, forcing wide-scale evacuations and abandoning rural areas to the non-stop snow. Soon enough, Slaught is forced by circumstance to stand up the the muscle of TALOS Security Corporation, setting in motion a rebellion of average folks fighting to rebuild their lives in the abandoned snowscape of the northland. Can a mixture of scrap snow-machines, gasoline and the military wisdom of subcommander Marcos be enough to let them rebuild their lives?
Media
The wintermen & The Wintermen II: Into the deep Dark by Brit Griffin: The Miramichi Reader, August 19, 2018
About the Author

Brit Griffin
Brit Griffin is co-author of "We Lived a Life", "The Life, Death and Life of a Mining Town" (Between the Lines, 1996), a non-fiction historical book which made the 2011 CBC, and "Cross-Country Check-up Summer Reading List." Brit was publisher of Highgrader Magazine for 10 years, an independent publication focused on rural and resource-based communities. She received two American Catholic press awards for her writing on family life, and has worked as a free-lancer in print, video, and radio. She lives in the town of Cobalt, Ontario with her husband, and is mother of three daughters.
---
---
More from this collection