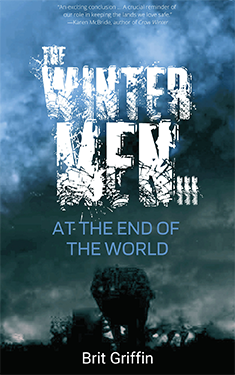 The Wintermen III: At The End of The World
Fiction | Dystopian
Pub Date: October 25, 2020
5.5 X 8.5 in | 307 pgs
Trade paperback: 9781988989242
e-pub: 9781988989327
"An exciting conclusion ... and a crucial reminder of our role in keeping the lands we love safe."
- Karen McBride author of Crow Winter
The Wintermen III is a wonderfully written story filled with memorable characters and nail biting action. It is so well written you don't notice how Griffin manages to infuse it with her plea for change. If you like your fantasy/adventure seasoned with intelligence and compassion this is the story for you.
-Richard Marcus, Blogcritics.org
The Wintermen III: At the End of the World, is a dystopian thriller, a meditation on human resilience, corporate greed, intransigence,  and the wisdom of nature that is a triumphant end to the series.   Griffin is a writer who in fiction and non-fiction remarkably reflects the lived experience of ordinary people dealing with extraordinary circumstances.  I anxiously await her next project.
-Bill McBain, Co-host of The Urban Zoo
Life after climate catastrophe, a dystopian nightmare?
Not if The Wintermen have their way.
Brit Griffin's dystopian series The Wintermen wraps up as Johnny Slaught tangles with new Talos strongman Eton Love over who the future belongs to: the people and the land, or the same old capitalist profiteers. With a slim promise of spring on the horizon, megalomaniac Love is gearing up for a cut and run replay of business as usual, and that means grabbing the wealth that lies within the Wintermen's territory.
But the forests, deep snows, and wolves, have a different idea about the fate of the northern landscape. Caught between these two powerful forces, Slaught and his community have to decide which side they're on.
Can they salvage a liveable future from the winter-swept remains of the planet, or is human greed just too powerful?
Media
Read an Excerpt from the Final Instalment of Brit Griffin's Climate Dystopia, The Winter Men III: Open Book, November 11, 2020
Book Review: The Wintermen III: At The End of the World by Brit Griffin
About the Author 
Brit Griffin
Brit Griffin is a writer and environmentalist and works as a researcher with an Algonquin community in north-west Quebec. Her debut novel, The Wintermen was shortlisted for the 2016 Northern Lit Award for Fiction. She lives in Cobalt, Ontario with her husband Charlie Angus, and is the mother of three grown daughters.

---
---
More from this collection