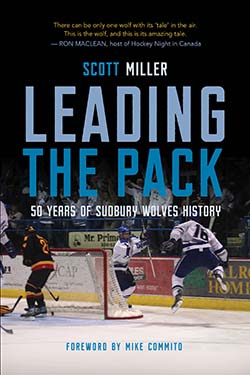 Leading the Pack: 50 Years of Sudbury Wolves History


Non-Fiction | History
6 X 9 in | 328 pgs
Pub Date: September 24, 2022
Trade paperback: 9781988989495
epub:
 9781988989501
There can be only one wolf with its 'tale' in the air. This is the wolf, and this is its amazing tale.
— Ron MacLean, host of Hockey Night in Canada
My years behind the microphone with CKSO Radio were some of the best in the history of the franchise and it was great reliving many of these great teams, great games and great players. A wonderful trip through memory lane.
—Joe Bowen, Canadian sports commentator
"Through all the wins and losses, the hundreds of players and the characters, Scott Miller weaves a 50-year-old tale of the Sudbury Wolves, one of the most tradition-steeped major junior hockey franchises in Canada. With impeccable attention to detail, Miller takes readers through the history of the franchise and provides insight into its transformation from its days as a senior and semi-pro team to a hockey factory that has produced more than its share of NHL players and memorable moments. In-depth interviews with former owners, coaches and players make Leading the Pack a must-read for any Sudbury Wolves' fan."
—Ken Campbell, hockey journalist and Sudbury Sports Hall of Fame member 
There are few cities that define what it means to rage against winter by playing Canada's sporting gift to the world, but this expansive document of Sudbury and its Wolves is a treasure for anyone interested in the pure soul of hockey. 
—Dave Bidini, author of Tropic of Hockey and Keon and Me

This definitive history chronicles over fifty years of Sudbury Wolves history, incorporating both historical documents and interviews with players, staff and others closely involved with the franchise over the years. It covers the big wins, heartbreaking losses, rise of future National Hockey League stars, colourful personalities, and devoted fans who have played their part in shaping the history of the Sudbury Wolves. Illustrated with historical photos and modern images, Leading the Pack: 50 Years of Sudbury Wolves History celebrates one of North America's most iconic junior hockey franchises.
Media
Leading the Pack: Sudbury author Scott Miller chronicles 50 years (and more) of Wolves history, September 21, 2022
Looking back on 50 years of Sudbury Wolves history and more, September 20, 2022
New book celebrates 50 years of the Sudbury Wolves, September 15, 2022


About the Author
Scott Miller is a writer and lifelong Sudbury resident. He completed his BA and MA in History at Laurentian University and has published articles on the history of Sudbury in the Canadian Historical Review, Ontario History, and the Canadian Military Journal. In 2019, Scott, along with co-author Mark Kuhlberg, received the Riddell Award from the Ontario Historical Society for the best article published on the subject of Ontario history in 2018. Along with being a fan of the Sudbury Wolves, Scott also supports the Toronto Maple Leafs and Buffalo Bills. Leading the Pack is his first book. Scott lives and works in Sudbury, Ontario.
---
---
More from this collection