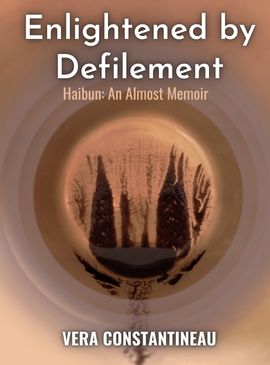 Enlightened by Defilement
Poetry | Haibun
5.5 X 7.5 in | 144 pgs
Pub Date: April 15, 2023
Trade paperback: 9781988989617
ePub: 9781988989655
A reflective expression of a life pursuing enlightenment

A collection of haibun and their haiku poems that take a glimpse into topics such as teenage awakening and long standing grief: all with a deflecting wittiness and space for reflection.

Inspired by the 108 Buddhist defilements, each piece represents a lesson learned, some based on personal recollections and experiences; others are gathered bits and pieces of confidences or snippets overheard while shamelessly eavesdropping.

As soon as you read the first haibun, with its clear prose followed by the haiku: grade three/ creating a family/ tree tangled roots, you will be hooked. Vera Constantineau uses her talent with haibun and haiku to capture emotions in moments that might otherwise appear everyday. She shares her own emotional growth that has pushed her along towards enlightenment.

From the joys and terrors of small-town life to the dangers of 'Craving Silence', her poems examine the delight of discovery, the fullness of joy, the heaviness of grief, and offer some good plain fun. Here are endless moments for pause, awe, and reflection from a poet's rich interior life. You'll be glad you followed Vera and her sister listening "…to DJ Bobby O on Z103.3—the volume turned low…the night air sizzles…". the precision of her memory of Bobby's voice, growling: "Don't touch…don't touch that dial."
Claudia Coutu Radmore, author of fish spine picked clean and the business of isness. 
Buddhism identifies 108 defilements that must be overcome to reach enlightenment. With grit and humour, Vera Constantineau recounts many of  her own encounters with the pitfalls of earthly temptations. Her choice of the Japanese-inspired haibun as her literary vehicle is inspired, allowing her to draw on the combined power of prose and poetry to show that while nirvana may be the destination, it is our "sins" and passions along the way that make us truly human.
⸺Angela Leuck, president of Haiku Canada and author of Paradise is a Garden.

About the Author
Vera Constantineau's poetic focus is in Japanese forms, haibun, haiku, senryu and tanka. In addition to poetry, her non-fiction essay, Options, is included in Against Death—35 Essays on Living (Anvil Press, 2021). In 2021 her haiku placed third in the Martin Lucas Haiku Award "Presence Haiku Journal" in Britain. Her essay He and I placed third place in the 2021 Northwestern Ontario Writers Workshop Creative Non-fiction prize. In 2014, was awarded first place in the Bangor Maine Haiku Society annual prize. Her short fiction and haiku have appeared in journals around the world including; Canada, Japan, USA, UK, India and Europe. She is a member of the Sudbury Writers Guild, Haiku Canada, Haiku Society of America, and Tanka Canada. She served as the sixth poet laureate for the City of Greater Sudbury (2020-2022). She lives in Sudbury with her husband.

---
---
More from this collection