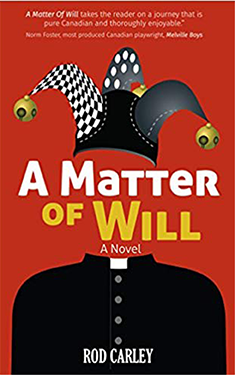 A Matter of Will
Fiction
Pub Date:  September 28, 2017
5.5 X 8.25 in |316 pgs
Trade Paperback: 9780994918383
e-pub: 9781988989297
Will Crosswell's decision to pursue acting shattered his father's dream of him being a useful adult. When we first meet the young Will he is a wolf in wolf's clothing. But in the ensuing years, from relationships to the theatre, his life has become one shipwreck after another.
Dumped by his fiancée and desperate to pay the rent, he finds himself taking a job on the bottom rung of the Great Chain of Being – a telemarketer. The satire becomes serious when Will hits rock bottom.
After a life-altering AA encounter with an unconventional minister, Will enrolls in divinity school and has to survive his most challenging escapade yet - a forty day fast in a Newfoundland outport in the middle of the frozen winter.
As he struggles to keep from freezing and starving to death, he is confronted by a series of strange events, not the least of which is an encounter with Billy Blight, a bigger-than-life Newfoundlander headed for perdition. 
Funny, surprising, outrageous, and moving, A Matter of Will is the tale of a middle-age maybe minister and his journey to find a mighty purpose.
About the Author
Rod Carley is the Artistic Director of Canadore College's Acting for Stage and Screen Program in North Bay and a part-time English professor at Nipissing University. He is also an award-winning director, playwright and actor, having directed and produced over 100 theatrical productions to date including fifteen adaptations of Shakespeare. He was the 2009 winner of TVO's Big Ideas/Best Lecturer competition. A Matter of Will is his first novel.
Media
A Matter of Will By Rod Carley-A reading from his new novel
Rod Carley Interview: Our Crater, October 04, 2017
Praise for A Matter of Will
"I much admired Carley's comic mastery. The phantasmagoric scenes of Will Crosswell's forty Dark Nights of the Soul in Witless Bay, Newfoundland are grotesque comedy such as has been rarely seen in Canadian writing and how refreshing it is! Who but Rod Carley would have invented a spiritual picaresque!"
– John Metcalf, author of The Museum at the End of the World
"In this fable-like tale, author Rod Carley proves that he has a deft touch with story and character. A Matter Of Will takes the reader on a journey that is pure Canadian and thoroughly enjoyable."
– Norm Foster, Canadian playwright, Melville Boys
"Rod Carley's terrific ear for dialogue brings the worlds of theatre and telemarketing to life in a breazy picaresque about the spiritual redemption of a dissolute rake."
-Allan Stratton, author of The Dogs
"A Matter of Will is literate — Dr. Seuss and Shakespeare get equal weight — but never ponderous. Funny, but never trivial. Poignant but never maudlin. It's a lovely, picaresque story to combat a cynical age. I hope we hear more from Rod Carley. "
– Donna Sinclair, author of The Long View
"A wonderful read. Carley writes like he's recounting a story to a friend in a Tavern - and what a great story it is!"
- Patrick McKenna, Canadian actor and comedian
---
---
More from this collection