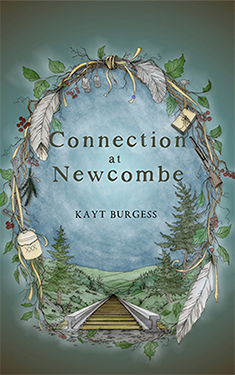 Connection at Newcombe
Fiction 
Pub Date: April 24, 2021
5.5 X 8.5 in 224 pgs
Trade Paperback : 9781988989266
e-pub: 9781988989365
"Tremendous and haunting, Kayt Burgess's Connection at Newcombe evokes the hard-driving, uncompromising spirit of Northern Ontario. 

Brimming with wisdom and insight,  Burgess's writing speaks to a simpler time, and her flawed and troubled characters to the human condition and all it brings, the good and the bad, that touches us deeply one and all."
-Matt Mayr, author of Things Worth Burying
Connection at Newcombe speaks to the indomitable spirit of family, friendship, and community. Kayt Burgess's eclectic cast of characters will have you reveling in their vivid details, and basking in the glow of a story well-told.  
-Amy Spurway, author of Crow
Burgess's prose is as purposeful and unadorned as passenger trains transporting us to post war Newcombe. The history of the politics of a Northern Ontario village, prohibition, family relationships and the lush backdrop of Newcombe itself are as fresh as the post war smell of trench mud and cigarette smoke in the characters' memories.
A story about progress, love and what it means to be 'at home' in the world, Kayt Burgess creates a poignant and heartwarming world for us that can tell us as much about today as it does in 1920.
- Evie Christie, author of The Bourgeois Empire and Mere Extinction
Kayt Burgess brings alive tiny Newcombe in the months after World War. Returning soldier, Callum Ballantyne, launches a preposterous campaign to increase the village population in a matter of weeks to qualify as a stop on the rail-line. When the disparate local – and not so local – population pulls together, we're reminded that part of us never leaves home, no matter how far we've gone. Burgess weaves a bit of magic and lot of humour into Connection at Newcombe, a novel that is both whimsical and so grounded in place you can smell the wood smoke, taste the ale, and feel the dirt on your skin. 
-Laisha Rosnau, best-selling author of Little Fortress
There's definitely a lot happening in this novel, with a lot of characters and viewpoints, a lot of old grudges and young love, race, class, and the lingering shadow of World War I, but it never feels rushed or overburdened. An enjoyable read about a plucky little town.
- The Miramichi Reader
Newcombe is too small to qualify for a rail station. So begins a campaign against time and government to guarantee the survival of their community in post-war Northern Ontario. 
It's 1920. The Great War is over and the troops are on their way home to reclaim their old lives. But before he can return to his days as a lawyer, Major Callum Bannatyne has one more mission: to ensure The Canadian National Railway builds its newest expansion through his hometown of Newcombe. The only problem? Newcombe's population is too small for it to qualify for a station. And so begins a small town's campaign against time and government to recruit their ringers and guarantee the survival of their community in post-war Northern Ontario. 
But not everyone is on board with duping the government and Cal's plan is undermined at every turn, whether due to the machinations of the local Reverend's zealous son, or the bullying of belligerent furrier Randall Evershed. Even Fergus, Cal's own father, who suffers with dementia, inadvertently jeopardizes the plan when he attacks one of Newcombe's conspirators during one of his fogs. But if living in the Canadian wilderness has taught the people of Newcombe anything, it's how to be resourceful in the face of adversity.  
Media
About the Author

Kayt Burgess's debut novel Heidegger Stairwell (2012) won the International 3 Day Novel Contest and a finalist for the 2013 ReLit Award for Fiction. She has been a scriptwriter on the best-selling augmented reality app Zombies, Run! and writes stories, poems, plays, and produces work in experimental digital storytelling. She received her Ph.D. from Bath Spa University in 2017. Kayt was born in Manitouwadge, Ontario and lives in Elliot Lake.
---
---
More from this collection