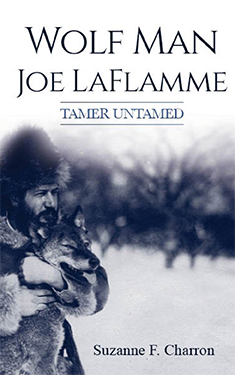 Wolf Man Joe Laflamme: Tamer Untamed
Non-Fiction
Pub date: September 28, 2017
5.5 x 8.5 in | 256 pp
Trade Paperback : 9780995823518
e-pub: 9781988989570
"Seventy years ago, at age four, I met Joe Laflamme and his pet moose at the Canadian National Exhibition in 1947. The National Film Board was making a film about the re-opening of "The Ex" after the war, and I was chosen to play a lost little boy. I still remember the smell of the moose's fur hide, and Joe's biblical appearance with white hair and beard. He was a genuine Canadian eccentric!"  
- Charles Pachter, Canadian artist and historian
"Fascinating discovery and history of someone who should be a more well-known Canadiana adventurer. Extremely well researched. Very delighted to read Charron's book and learn more."      
- Volker Beckmann, Project Director, Spirit Way Inc., Thompson Manitoba, aka "Wolf Capital of the World"
Joe LaFlamme lived passion to the limit.  In 1920 he settled in Gogama, in remote Northern Ontario, connecting to the wild animals of the boreal forest. Taming wolves turned him into a legend, his fame spreading throughout Canada and the United States. Yet he himself remained untamed and unstoppable. Imagine a strapping Canadian trapper raising timber wolves to draw his sleigh; mushing his wolf team in the heart of big cities like Montreal, Toronto, Boston, and even on Broadway in New York, even bringing his moose to ABC radio for an interview. Not only did Wolf Man Joe LaFlamme's passion lead him to tempt fate by rubbing shoulders with wild beasts, he also de ed the law by bootlegging moonshine to make ends meet and spice up his life.
About the Author

Suzanne Charron

Born and raised in Sturgeon Falls, in Northern Ontario, Suzanne holds a bachelor of arts degree from the Université du Québec à Montréal (2005), majoring in language sciences with a minor in history. She has over fifteen years of experience in the field of communications. She has also worked across Northeastern Ontario in administration, journalism, and education.
---
---
More from this collection