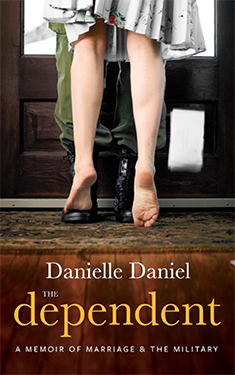 The Dependent: A Memoir of Marriage and the Military

Non- Fiction l Memoir
Pub Date : September 30, 2016
5.5 X 8.5 in | 164 pgs
Trade Paperback: 9780994918345
e-pub: 9780994918352
"With candour and honesty, Danielle Daniel shares her painful journey as she discovers that marrying a solider means she also married the military, and that she is outranked at every turn. Her struggle to "soldier on", made only harder by the tragedy of her husband's accident, is heartbreaking, yet her determination--and ultimately, her transformation--is inspiring."
–Shannon Moroney, author of Through the Glass (National Bestseller)
"...an act of heroism.."
– Caroline Adderson, author of Sitting Practice and Ellen in Pieces
"The playing with time and story, the giving and withholding of detail, is stunningly accomplished, which is only underlined by the book's incredible, miraculous and beautiful ending, which is also its beginning, a fantastic, complicated and beautiful love story..."
– Kerry Clare, blogger, book reviewer, author of Mitzi Bytes
49th Shelf Most Anticipated Fall 2016 Non Fiction Selection
The Dependent is a true story written by a military wife married to a paratrooper who served in the Canadian Armed Forces for fourteen years before his army career came to a crashing halt—a freak accident near Armed Forces Base Trenton left him paraplegic and their future in shards. Danielle, a fiercely independent university student, meets Steve, an ambitious infantry private. Much of the first years of their marriage are spent apart, as Steve's infantry unit is sent overseas for duty in Croatia, Bosnia, and Afghanistan. With each tour of duty, the emotional distance between them intensifies. After four tours, Steve finally comes home to stay, but little changes: their marriage remains a difficult ménage-à-trois made up of a man, a woman, and the military. In this deeply candid depiction of their marriage before and after a life-altering trauma, each chapter unveils an intimate portrait of marriage—one in which Danielle and Steve must navigate shifting roles and learn to co-exist in a space where the collateral damage of military service is absolute. The Dependent is a brave and modern love story revealing immeasurable loss and grief and the journey to lasting hope and forgiveness.
Media
The Dependent: A Memoir of Marriage and the Military - Review
The Dependent: CBC News, September 12, 2017
Danielle Daniel Interview: Our Crater,  October 11, 2016
Author

Danielle Daniel
Danielle Daniel is the author and illustrator of "Sometimes I Feel Like a Fox," a finalist for the First Nation Community Reads Literary Award and one of NY Public Library's most notable books for 2015. Her second children's book, "Once in a Blue Moon," is forthcoming fall 2017. Her short stories have been published in Room and Event Magazine. Danielle is currently working on a novel and completing an MFA in Creative Writing through the University of British Columbia. She writes and paints in Sudbury, Ontario where she lives with her husband Steve and their son Owen.
---
---
More from this collection