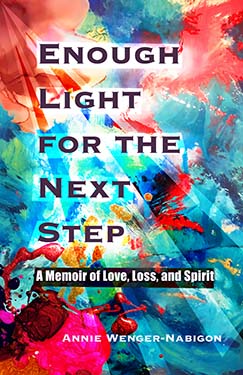 Enough Light for the Next Step: A Memoir of Love, Loss, and Spirit
Memoir 
Pub Date- April 02, 2022
5.5 X 8.5 in | 188pgs 
Trade Paperback: 9781988989440
e-pub: 9781988989532
A profound love suffuses Annie's eloquent memoir of the path – hers starting from the southern mountain forests of the United States and his from the northern shores of Lake Superior -- that converged to the life she and her late partner were destined to share in his last ten years. Her struggle to gain "a wisdom that opens the heart to gratitude and joy" through the teachings imparted by Elders as she grapples with her grief is inspiring to anyone who has lost their partner.
—Mary Ann Corbiere, Professor Emerita, University of Sudbury

When Herb and Annie returned to Biigtigong Nishnaabeg (Pic River First Nation) they invited Pearl and I, strangers, into their home for a meal of moose and genuine hospitality. Annie, ever a student and a teacher of the ways of the heart and of healing, invites readers into her spiritual home. In Enough Light for the Next Step: A Memoir of Love, Loss, and Spirit Annie shares herself, and her enduring love for Herb Nabigon, whose wisdom, kindness and stories she has inherited and has woven with her own. The result is a sumptuous feast with a dear friend you may have just met.
—David Giuliano, author of The Undertaking of Billy Buffone
This book not only tells the life story of Annie's incredible journey but also honours and cherishes the life of her husband. It is a wealth of information and knowledge that is respectfully passed on to those who read it and hopefully benefit from the teachings.
—Cloud Lake Literary Journal
Annie Wenger-Nabigon's memoir is a deeply satisfying tribute to finally finding true love and then needing enough light for the path to move on through grief after an "amputation of the heart".  Enough Light for the Next Step tells the story of Annie Wenger-Nabigon and her husband Herb Nabigon, an Oji-Cree Anishinabe elder. In this powerful and moving tribute to her late husband, the beliefs and teachings he shared with her, Annie Wenger-Nabigon shares the Oji-Cree teachings Herb wanted to pass on.
—The Miramichi Reader
About the Author

Annie Wenger-Nabigon, Ph.D., is a retired therapist and social work educator. She was born in mountainous southern territory of the Osage Peoples (northcentral Arkansas), the oldest child of Mennonite medical missionaries, and spent most of her childhood years in a Mennonite community in Lancaster, Pennsylvania, the traditional territory of the Susquehannock Peoples. Between the beginning of her story and the current time, she has traveled across many territories, borders and boundaries, always learning, always finding the Light. She is a dual citizen of Canada and the United States, honouring her family on all sides of the borders. She currently resides in Sault Ste, Marie, Ontario.
---
---
More from this collection