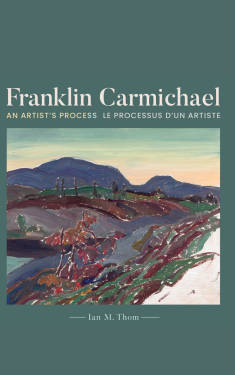 Franklin Carmichael: An Artist's Process | Le Processus D'un Artiste
Canadian Art | Group of Seven
9 X 10 in | 51 pgs
Pub Date: May 2023
Trade paperback: 9781988989587
The images shared in Franklin Carmichael: An Artist's Process provide an intimate look at the Group of Seven artist's approach to painting landscape. There is resonance in Franklin Carmichael's practice of painting outdoors, en plein air, onsite with a sparkling view of La Cloche mountains or Lake Superior or a northern town like Cobalt before him. These art works reveal much about the materials he used, his palette of colours, how he prepared a panel or painting surface, his preliminary sketch, his form of composition, and his process of painting in oils or in watercolour.

Les images présentées dans Franklin Carmichael : Le processus d'un artiste offrent un regard intime sur l'approche de l'artiste du Groupe des Sept en matière de peinture de Paysages. Il y a une résonance dans la pratique de Franklin Carmichael, qui consistait à peindre en plein air, sur place, avec une vue imprenable sur les montagnes La Cloche ou le lac Supérieur, ou une ville du nord comme Cobalt. Ces œuvres d'art révèlent beaucoup de choses sur les matériaux qu'il utilisait, sa palette de couleurs, la façon dont il préparait un panneau ou une surface de peinture, sapremière esquisse, sa forme de composition et son processus de peinture à l'huile ou à l'aquarelle.

ABOUT THE AUTHOR
Ian M. Thom is a Senior Curator Emeritus. Involved in Canadian art museums for more than thirty years, he has also held senior curatorial positions at the Art Gallery of Greater Victoria and the McMichael Canadian Art Collection. He has organized more than one hundred exhibitions and written numerous articles and authored or co-authored many books, including Robert Davidson: Eagle of the Dawn, Andy Warhol: Images, Art BC, E.J. Hughes,Takao Tanabe, B.C. Binning, Emily Carr: New Perspectives on a Canadian Icon and Challenging Traditions: Contemporary First Nations Art of the Northwest Coast. He lives in Lethbridge, Alberta.
---
---
More from this collection