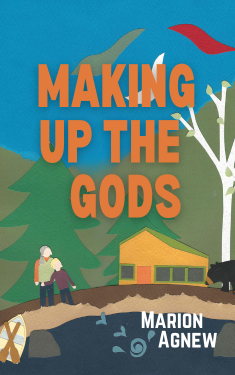 Making Up the Gods
Fiction
Publication date: October 15, 2023
5.5 x 8.5 | 376 pages
Trade paperback: 9781988989686
epub: 
PRE-ORDER NOW!
Making Up the Gods is equal parts quirky and sincere in its thoughtful exploration of tragedy and recovery, of new and old relationships, and of deeper questions of when to let the past rest.

Simone, a retired widow, would live a quiet and isolated life, if not for the lingering ghosts of her family. One day, Simone is visited at her home by a man named Martin claiming to be her cousin. When Martin asks if Simone is willing to sell her cottage by the lake, a proposition made sweeter by the prospect of a condo in Florida, Simone, though pleased at the thought of a cousin, also questions his intentions.

Where among her past has Martin even come from, and why has he emerged in this moment? The burden of making a decision is all the more difficult because Simone has agreed to take care of a friend's nine-year-old boy, Chen, for a short time while his mother enjoys a much-needed vacation. Simone finds her match in Chen, a curious and precocious boy grieving the loss of his father and stepbrother in an accident that has shaken the entire community.

Can Simone hide her ability to see her family ghosts? Will Martin succeed in extorting Simone's beloved home—and worse, is he a danger to Chen? Because of Chen and Martin, Simone is caught between her ties to the past and her desire to embrace the company of the living.
ABOUT THE AUTHOR

Marion Agnew is the author of a personal essay collection, Reverberations: A Daughter's Meditations on Alzheimer's (Signature Editions, 2019). It was shortlisted for the Louise de Kiriline Lawrence award for nonfiction. Her essays have been nominated for a Pushcart Prize and a National Magazine Award. She lives in Shuniah, Ontario, mere yards from Lake Superior, on Anishinaabe/ Robinson-Superior Treaty territory.

PRAISE FOR MAKING UP THE GODS
Full of humour and heart, Marion Agnew's debut novel is both a love letter to northern Ontario, and a moving meditation on grief, community, and family—the one we are born with, and the one we choose. No matter where you are in the world, reading Making Up the Gods will make you feel like you are standing on the shores of Lake Superior, and, like the memory of skipping rocks across the water or spotting the silhouette of a bear on the horizon, this story and these characters will stay with you for a long time.
—Amy Jones, author of We're All in This Together and Pebble & Dove

How do we learn to trust in the wake of sudden tragedy? In Making Up the Gods, three grieving strangers—an elderly widow, a young boy, and a middle-aged alcoholic in tenuous recovery—meet on the cusp of spring at a lakeside camp to face down their ghosts, their fears, and a pair of hungry bears. In the process, they forge connection, friendship, even something like family. This wise, funny, and generous-hearted novel shows us how shared labour and shared love for a distinctive landscape can become a vehicle for healing, mutual understanding, and growth.
—Susan Olding, author of Big Reader
Marion Agnew gathers together a cast of unlikely characters and sets them on the shore of Lake Superior with their ghosts. While each of them holds on to the past, like a collection of rocks plucked from the shore, it's their connection to each other that helps them find the strength to surrender their loss like stones returned to the sea. A heartwarming story of grief, love and hope, the healing power of community and the creation of family through shared experiences, friendship and trust. You'll be charmed by Chen, cherish Simone and cheer for Martin as their lives intersect in Making Up the Gods. A welcome addition to stories set in Northwestern Ontario where characters draw strength and inspiration from the inland sea that is Lake Superior.
—Jean E. Pendziwol, bestselling author of The Lightkeeper's Daughters


---
---
More from this collection