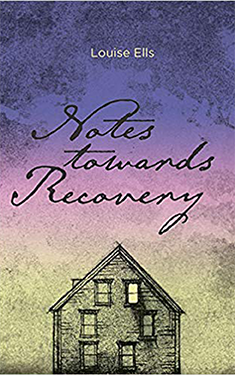 Notes Towards Recovery
Fiction | Short Story collection
Pub Date: May 1, 2019 
5.5 X 8.5 in | 215 pgs
Trade paperback: 9781988989082
e-pub: 9781988989099
"...Notes Towards Recovery is a remarkable debut."
- Kerry Clare, author of Pickle Me This 
"...moving, intricate, emotionally powerful..."
- Adam C Piette, Professor of Modern Literature at the University of Sheffield 
Notes Towards Recovery, is a short story collection that explores loss and the spaces around loss. At the centre of these stories are everyday women who must navigate these spaces and their shifting boundaries, often redefining themselves in the process.
Media
North Bay author examines 'the core feelings of loss'
The next writer in the series: may 1, 2019
About the Author
Louise Ells 
Louise Ells earned her PhD in Creative Writing from Anglia Ruskin University, and was a Hawthorden Fellow in 2017. Her fiction is informed by her diverse life experiences; she has worked as a chef, caregiver, and co-pilot on a submarine, and survived a category five hurricane. An English and Creative Writing instructor, Louise currently teaches for Cambridge Programmes, at Churchill College, Cambridge, and at Nipissing University, North Bay. She and her husband live on the shore of Lake Nipissing with their beloved cat.
---
---
More from this collection