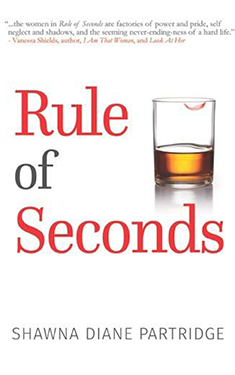 Rule Of Seconds
Fiction
Pub Date: May 01, 2016
4.59 X 6.9 in | 142 pgs
Trade Paperback: 9780994918321
e-pub: 9780994918338
"Shawna Partridge's Rule of Seconds is a powerful and fast-paced work that beautifully renders the tensions and tenderness or a storytelling family. Personal narratives, diary entries, letters, and historical facts are skillfully intertwined in this compelling examination of generational understanding and misunderstanding. Secrets provide the catalyst for the narrator's probing desire to uncover truths, reconcile differences, and ultimately determine who, in light of her family, she is."
–Madeline Sonik, author, Afflictions & Departures: Essays
"Shawna Diane Partridge delivers a solid first book – part love story, part mystery, part self-help.Rule of Seconds exemplifies what can happen when the tradition of matriarchal leaders living in patriarchal times get a voice to speak out. Where 'secrets' aren't so much secrets as they are purposefully-kept-quiet life choices. Where pride and face-saving reigned over compassion and hope. Where the women let their space and time define them on the outside leaving heaving holes within that could never been filled."
–Vanessa Shields, author, I Am That Woman and Look At Home
Four generations of women. Four generations of stories. Years of secrets. Rule of Seconds interlaces the extraordinary lives of four genera-tions of one family in the Northern Ontario city of Sault Ste. Marie. The cyclical nature of themes and tragedy entwines the women and their histories. At age twenty-six, the narrator-protagonist Sheila recalls her past and that of her family in hopes of unearthing the cause of her painful epilepsy. Piecing together the depth of her troubled family history, Sheila discovers far more than she can cope with. Spanning from the 1920s to present day, the narrative depicts the unconventional life of Sheila's great grandmother who owned a three-storey boarding house and ran an illegal speakeasy in the basement. Rule of Seconds is a story about four generations of hard women, defying the conventions of their era, time and again.
Media
Great-grandmother who ran illegal speakeasy inspires book: Sudbury.com, May 10, 2016
Sudbury publisher released new book: Sudbury Star, May 02, 2016
About the Author

Shawna Diane Partridge
Born and raised in Sault Ste. Marie, Ontario, Shawna Diane Partridge grew up swimming in Lake Superior. She later earned a Liberal Studies Diploma from Sault College and through Algoma University, obtained a Bachelor of Arts Honours in English from Laurentian University. Following that success, she earned a Master of Arts in English Language and Literature from Queen's University and a Master of Arts in Creative Writing from the University of Windsor. She worked as Managing Editor of Rampike magazine and Editorial Assistant for the Windsor Review: An International Journal of Life, Literature and Art.  Currently residing in the City of Greater Sudbury, she spends her days working in the non-profit sector and is a committed volunteer within the arts community.
---
---
More from this collection