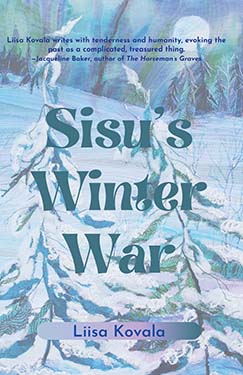 Sisu's Winter War
Fiction | History
Pub date: October 02, 2022
5 x 8.5 in | 350 
pgs
Trade Paperback: 9781988989471 
ePub: 9781988989488
Sisu's Winter War is a rich and sensitive story of love and connection in times of war and separation.
—Marion Agnew author Reverberations: A Daughter's Meditations on Alzheimer's
With the universal themes of love, family, and sacrifice, and the sustained courage and resilience (sisu) that Meri displays in the wake of secrets, betrayal, danger, and loss, Sisu's Winter War is a very compelling and satisfying read. 
—Rosanna Micelotta Battigelli, award-winning author of La Brigantessa and Pigeon Soup & Other Stories
Love and memory dance together through the novel, and readers will quickly find themselves falling in love with Meri's tenacity and spirited nature.
—Kim Fahner, author of These Wings and Emptying the Ocean
Liisa Kovala writes with tenderness and humanity, evoking the past as a complicated, treasured thing.
—Jacqueline Baker, author of The Horseman's Graves

Liisa Kovala's debut novel had a lot to teach me. . . A really worthwhile read.
—Kerry Clare, author of Mitzi Bytes and Waiting for a Star to Fall

When memories threaten to disappear, past promises must be confronted.
Meri Saari made a promise to her dying mother that she would keep the family together, but she was too young to know how a war can pull people apart. With the Soviet invasion of Finland, Meri pledges loyalty to the Lotta Svärds and becomes the sole caretaker for her siblings. When her father goes missing in action, she finds herself searching for him on the front lines.
Forty years later, living in northern Ontario, Meri's past and present collide when she is diagnosed with early onset Alzheimer's. Responsible for her granddaughter, and navigating a strained relationship with her daughter Linnea, Meri is haunted by the people of her past and by the promises she failed to keep. As she struggles against her inevitable decline, she knows her losses are amassing: her home, her health, and her memories. Meri embarks on one last journey in search of the man she had to give up, before it's too late. Before everything disappears.
Media
Sudbury author releases book set in Finland's Winter War, October 7, 2022
About the Author
Liisa Kovala is a Finnish Canadian author and teacher. Her first book, Surviving Stutthof: My Father's Memories Behind the Death Gate (Latitude 46, 2017), was shortlisted for a Northern Lit Award and published in Finland under the title Stutthofin selviytyjä (Docendo, 2020). Her work is inspired by her Finnish heritage and the northern landscape she calls home. Sisu's Winter War is her debut novel. She lives in Sudbury, Ontario with her husband and two children.
---
---
More from this collection