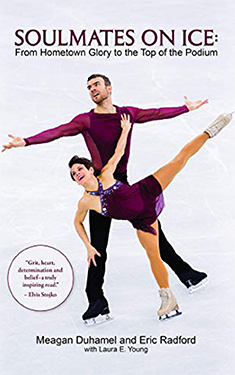 Soulmates On Ice: From Hometown Glory to Top of the Podium
Non-fiction
Pub Date: November 01, 2018
7 X 9.75 in | 123 pgs
Trade Paperback: 9781988989013
e-pub: 9781988989044
"Grit, heart, determination, belief - A truly inspirational read, so proud of Meagan and Eric."  
– Elvis Stojko
"Eric is one of my greatest friends and I thought I knew it all. But reading this honest and exhilarating tale of how this team came to be, is a story I never knew - until now.  This honest portrayal of two athletes who found their way to each other on their quest for Olympic glory, is an exceptional story of passion and sacrifice."
– Patrick Chan, Olympic medalist
 "Meagan and Eric's story is all about perseverance and resilience, and Soulmates On Ice perfectly encapsulates their career together. Their passion for skating is so palpable - even though I knew their journey well, it's incredibly inspiring to read and see it all pieced together here."
– Jackie Wong, skating analyst
Discover the unlikely path Meagan Duhamel and Eric Radford followed en route to the top of the world in figure skating. The Northern Ontario pairs skaters, who won a complete set of Olympic medals, reflect on how they developed a working relationship and honed their resilience in a sport that often left them bloodied and bruised. Ultimately, the two-time world champions earned the perfect, storybook ending to the sport they have adored since they laced up their first pair of skates.
Media
Soulmates on Ice: Now you can read the amazing story of Canadian pairs powerhouse Meagan Duhamel and Eric Radford: Sudbury.com, November 2, 2018
Duhamel and Radford to launch book in Sudbury: Sudbury Star, December 22, 2018
About the Authors
Northern Ontario skaters Meagan Duhamel of Lively, and Eric Radford of Balmertown, became the first pair in the world to land a throw quadruple Salchow at the Olympics. At the 2018 Winter Olympics, they led Canada to the team event gold and won the bronze in the individual pairs. They also won silver in the team event at the 2014 Olympics. The two-time world champions are also seven-time Canadian champions. Off ice, Duhamel is a certified holistic nutritionist and Radford is composer with his Grade 9 from the Royal Conservatory of Music. They live in Montréal, Quebec, Canada.
Laura E. Young is a journalist based in Sudbury and the author of the award-winning Solo Yet Never Alone: Swimming the Great Lakes. A graduate of the University of King's College in Halifax, NS, she has worked in various media in Northern Ontario and has won awards for sports, feature, and spot-news writing through the OCNA. She teaches in Cambrian College's public relations program and is a certified lifeguard and an avid swimmer.
---
---
More from this collection