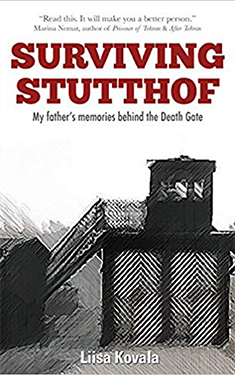 Surviving Stutthof: My Father's Memories Behind The Death Gate
Non-fiction
Pub Date: September 28, 2017
5.5 X 8.5 in | 210 pgs
Trade Paperback: 9780994918390
e-pub: 9781988989273
"Liisa Kovala's Surviving Stutthof is an act of true love. By telling her father's story so eloquently, Liisa bears witness to an experience that holds within its nucleus the lives of thousands of the victims of Stutthof Concentration Camp. The book's direct, straightforward language puts the reader in the middle of history and how it can devastate good, ordinary people who are forced to face atrocities that are difficult to fathom. Read this. It will make you a better person."
– Marina Nemat, author, Prisoner of Tehran & After Tehran
"Liisa Kovala has achieved something extraordinary in telling her father's remarkable story: she has turned living history into living art. Survivng Stutthof reads like a novel, but there is never any question that it is delivering a universal truth."
— Wayne Grady, author of Emancipation Day.
"In this personal labor of love, the care Kovala takes in recounting her father's experience is evident on every page. A valuable, unique addition to the canon of survivor stories."
– Kirkus Reviews
As the first Russian bombs drop on Oulu, Finland in early 1940 during the Winter War, Aarne Kovala is a young boy with a great love of the sea. While the war rages, Aarne takes fate into his own hands and joins the Finnish merchant marines. He spends his days delivering war materials between Finland, Poland, and Germany.
But when Finland's ties with Germany are severed after the signing of the Moscow Armistice in 1944, Aarne and his fellow sailors are arrested by the Nazis and sent by cattle car to the infamous Stutthof concentration camp deep in the Polish forest. And thus begins Aarne's horrific struggle to survive amid dreadful living conditions, scarce food, and grueling work details. In the only letter he is allowed to send home, he prays, "I hope the day soon dawns that we again may meet." But after months of dark nights and even darker days, how long can his hope survive?
Surviving Stutthof is a tale of survival, hope, and ultimately the triumph of the human spirit.
Media
Lisa Kovala Interview: Our Crater, October 16, 2019
About the Author

Liisa Kovala
Liisa Kovala is a Finnish-Canadian teacher and writer. Her short stories have appeared in Sudbury Ink, Creepy Capreol, Jr., Along the 46th, Kippis! Literary Journal and other publications. Her creative non-fiction pieces have appeared in Chicken Soup for the Soul: Christmas in Canada, Canadian Teacher Magazine and Sudbury Living. Liisa studied creative writing at the University of Toronto and is currently working on a novel. She lives in Sudbury, Ontario with her husband Michael and their two children Mia and Kieran.
---
---
More from this collection