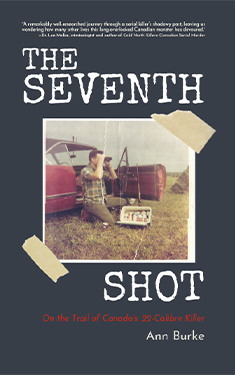 The Seventh Shot: On the Trail of Canada's 22-Calibre Killer
Non-Fiction | True Crime
Pub Date: October 22, 2020
5.5 x 8.375 in | 174 pgs
Trade Paperback: 9781988989235
e-pub: 9781988989310
Finalist: Next Generation Indie Awards for Regional Non-Fiction
"The Seventh Shot brings exceptionally detailed research into a fast-paced true crime mystery that touched many parts of Ontario, but can easily be imagined in any combination of rural environments."

—Anita Arvast, author of Bloody Justice: The Truth behind the Massacre at Shedden and What Killed Jane Creba: Rap, Race and the Invention of a Gang War.
"Ann Burke takes us on a remarkably well-researched journey through a serial killer's shadowy past, leaving us wondering how many other lives this long-overlooked Canadian monster has devoured."
—Dr. Lee Mellor, criminologist and author of Cold North Killers: Canadian Serial Murder
The Seventh Shot is a recounting of two grisly Ontario murders some thirty years on, and the remarkable efforts of police detectives to unravel the senseless brutality of these crimes. The author, and one-time classmate of the killer, haunted by the crimes and some demons of her own, sets about shedding light on the dogged determination of Ontario Police Detectives to bring a killer cop to justice, involving a little luck, and a whole lot of talent.
Drawing on faded archival copies, hours of interviews and first hand accounts, This one time journalist follows the life of Ronald Glen West, once referred to as' The .22-Calibre Killer', from birth to time spent on the range with the likes of Bernardo and Williams, with whom, among many other coincidences, he has more than crimes in common.
Besides the 1970 murders of two young mothers in the Oak Ridges Moraine, Burke addresses the yet unsolved Blind River killings at a roadside rest stop in 1991 for which West has long been suspected.
One cannot read The Seventh Shot without comparing the parallels of the Golden State Killer: both cops, long undetected and ultimately charged through the science of DNA.
Media
Local author pens first true crime novel, October 22, 2020
The Seventh Shot: How a Sudbury pawn shop led to the arrest of a cop turned killer
The Ann Burke Interview: The Miramichi Reader, November 5, 2020
About the Author
Ann Burke
After serving in the Royal Canadian Navy as a Navigational Operator/Radar Technician, Ann turned her interest to her greatest love, writing. Working largely in the social services sector as a counsellor in a Women and Children's Shelter, co-ordinating a Homeless drop-in and directing a rural community centre, she freelanced for newspapers, including The Toronto Star. Her most memorable years were spent working for The Walden Observer in Lively, Ontario and covering events for The Sudbury Star. She now lives in Innisfil with her husband.
---
---
More from this collection