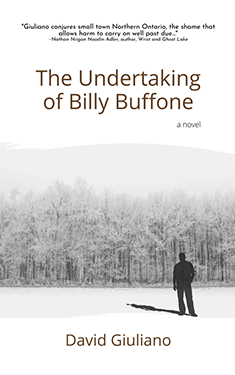 The Undertaking of Billy Buffone
Fiction 
Pub Date: April 17, 2021 
5.5X8.5 in | 292 pgs
Trade Paperback: 9781988989334
e-pub: 9781988989341
2022 Winner
 AICW Bressani Literary Prize for Fiction
"In The Undertaking of Billy Buffone, Giuliano conjures small town Northern Ontario, the shame that allows harm to carry on well past due, the way tragedies can overlap and intersect, as can our healing trajectories, bringing folks together in a universal human experience of loss and redemption."
- Nathan Niigan Noodin Adler, author, Wrist and Ghost Lake
"The Undertaking of Billy Buffone is a fearless journey into the troubled souls of the citizens of a northern Ontario town. The traumas simmering within this close-knit community are real, gritty — and often spiral into greater problems. One by one, each character discovers that life's burdens cannot be carried alone forever; the cost is too great. Truths are revealed and shame loses its power. There is redemption."
- Jocelyn Bell, Editor/Publisher, Broadview
"In a narrative that unfolds like old time rock-n-roll Giuliano delivers a pitch-perfect, whip-smart glimpse into the lives of highly memorable characters in a small Northwestern Ontario town." 
-  Dayle Furlong, Lake Effect & Other Stories
A vivid portrait of lives intertwined in the search for redemption amidst the uncovering of dormant truths a small town tried to bury.

In the spirit of The Boys of St.Vincent, award winning author David Giuliano creates a story of trauma, humour and redemption. Catherine, a newly minted preacher, moves to Twenty-Six Mile House, an isolated community in northern Ontario and befriends the quirky undertaker Billy Buffone who has a disturbing secret he has carried for almost two decades. Billy's best friend, now deceased, leads the reader through the traumatic events of today and those from the never-forgotten past.
Media
The undertaking of Billy Buffone by David Gioliano: The Miramichi Reader March 14, 2021
A New novel by Northwestern writer David Giuliano navigate difficult territory: The Wall Eye April 17, 2021
Cloud Lake Literary - Book Review, April 15, 2021
Interview - David Giuliano and The Undertaking of Billy Buffone: Canada Reads American Style June 26, 2022
Northern author's debut Novel Wins fiction prize: CTV News
An Extended Review of The Undertaking of Billy Buffone, Faith Today Magazine, February 27, 2023
About the Author
David Giuliano
Giuliano is an award-winning writer of articles, essays, and poems. His book Postcards from the Valley: Encounters with Fear, Faith and God was a Canadian Best Seller. He has published two illustrated children's books: The Alligator in Naomi's Pillow and Jeremiah and the Letter e. His most recent book, It's Good to Be Here: Stories we tell about cancer, is a spiritual memoir about his 20-year journey with cancer. The Undertaking of Billy Buffone is Giuliano's first novel. He lives in Marathon, Ontario with his wife.
www.davidgiuliano.ca
BISAC: FIC019000, FIC066000
---
---
More from this collection