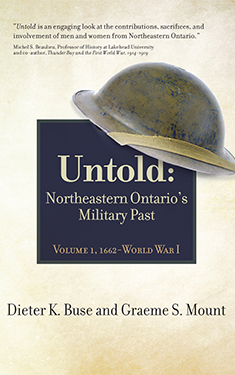 Untold: Northeastern Ontario's Military Past, Volume 1, 1662- World War 1
Non-Fiction/History
6.901 X 10 in | 280 pgs
Pub Date: October 9, 2018
Trade paperback: 9780995823501
e-pub: 9781988989051 
"Untold is an engaging look at the contributions, sacrifices, and involvement of men and women from Northeastern Ontario. It establishes that Northeastern Ontario frequently served as a place important in its own right."
– Michel S. Beaulieu, Professor of History at Lakehead University and co-author of Thunder Bay and the First World War, 1914-1919.
 "A fascinating and much-needed story of the contributions of the people of Northeastern Ontario to the First World War, stories which have never before been told in print. Through diaries, letters, and official records, historians Dieter Buse and Graeme Mount have uncovered everything from heroic deeds to desertions.  We learn of the realities of war in Europe, internment closer to home, and the commemorations of war afterwards. Bank clerks, forestry workers, and Indigenous trappers (among others) emerge from the pages as real people who played important roles in the Canadian war effort, and whose stories deserve to be better known."
– Kerry Abel, author of Changing Places: History, Community, and Identity in Northeastern Ontario
About
Brought together for the first time, the remarkable and mostly unacknowledged contributions, experiences, and remembrances of warfare by the people of Northeastern Ontario.
Authors
Dieter K. Buse is professor emeritus at Laurentian University (History), author and editor of numerous publications in modern European and Canadian history including the regional guide, Come on Over: Northeastern Ontario A-Z. He has been on many community boards, including art galleries and the legal clinic. He also enjoys dancing, golfing, gardening, fishing, curling, and sculpting.
Graeme Mount taught Contemporary History at Laurentian University from 1969 until retirement in 2005.   He has lectured and written about the wars of recent centuries, and with Dieter K. Buse, co-authored Come on Over: Northeastern Ontario A-Z. He wrote A History of Fort St. Joseph (2000), as well as other books and articles. Professor Mount spent his formative years (1945-1958) in North Bay and has taught university courses in North Bay, Sault Ste. Marie, and Timmins.  He continues to enjoy canoeing and swimming at his cottage on Sudbury's Long Lake.
---
---
More from this collection