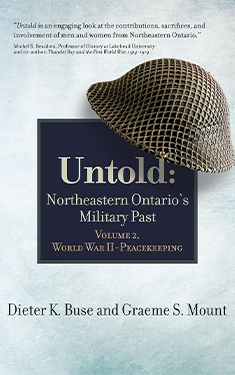 Untold: Northeastern Ontario's Military Past, Volume 2, World War II - Peacekeeping
Non-Fiction/history
Pub Date: October 10, 2019
6.901 X 10 in | 200pgs
Trade Paperback: 9781988989167
e-pub:9781988989198
"Untold is a much-needed addition to our understanding of the history of Northern Ontario.  Wide ranging research from diaries, letters, newspapers, and official documents brings this story to life.  This is most definitely a story which needs to be TOLD"

-David K. Ratz, Adjunct Professor, Department of History, Lakehead University; Lieutenant-Colonel and Commanding Officer, Lake Superior Scottish Regiment; co-author of Thunder Bay and the First World War, 1914-1919 (2018).
"Buse and Mount have searched through almost every possible source, from government records to newspapers to local Legion halls to private family papers, to uncover the military history of northeastern Ontario from the [1660s] to the present.  Filled with personal stories and anecdotes, the book reminds us of the significant roles Northeasterners have played in that history, and the many ways wars have shaped this region - some more obvious, and many less so."
 -Daniel Byers, Associate Professor of History, Laurentian University, and author, Zombie Army: The Canadian Army and Conscription in the Second World War.
In this second volume of Untold: Northeastern Ontario's Military Past, authors Dieter K. Buse and Graeme S. Mount detail the contributions and experiences of men and women from northeastern Ontario who participated in military conflicts. They present, among many topics, the Spanish Civil War, internment of enemy aliens, prisoner of war camps in northeastern Ontario, and participating in World War II. They show the participation, contributions and sacrifice of men and women in all the services (army, navy and airforce) as Northeasterners fought in all the major conflicts. The Cold War struggles, Korean and Afghanistan wars as well as peace-keeping helped shape Northeastern Ontario. Through archival research, military documents, newspapers, diaries and personal letters, the stories reveal the sacrifices and challenges, how military activities and service impacted families and communities in northeastern Ontario. 
Media
Northeastern Ontario history book earns big prize: CTV News, December 6, 2020
Sudbury authors win award for book on northeastern Ontario's military past: CBC News, December 6, 2020
 Untold: Northeastern Ontario's Military Past, Volume 1: 1662–World War I by Dieter K. Buse and Graeme S. Mount (review)
Book by Sudbury historians details more of North's war history: Sudbury Star, October 6, 2019
New book uncovers northeastern Ontario's military history: Sudbury Star, October 13, 2018
About the Authors
Dieter K. Buse
Dieter K. Buse is professor emeritus at Laurentian University (History), author and editor of numerous publications in modern European and Canadian history including the regional guide, Come on Over: Northeastern Ontario A-Z. He has been on many community boards, including art galleries and the legal clinic. He also enjoys dancing, golfing, gardening, fishing, curling, and sculpting.
Graeme Mount
Graeme Mount taught Contemporary History at Laurentian University from 1969 until retirement in 2005.   He has lectured and written about the wars of recent centuries, and with Dieter K. Buse, co-authored Come on Over: Northeastern Ontario A-Z. He wrote A History of Fort St. Joseph (2000), as well as other books and articles. Professor Mount spent his formative years (1945-1958) in North Bay and has taught university courses in North Bay, Sault Ste. Marie, and Timmins.  He continues to enjoy canoeing and swimming at his cottage on Sudbury's Long Lake.
---