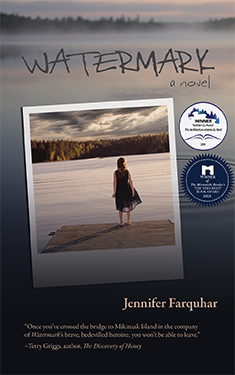 Watermark
Fiction | Thriller
Pub Date: May 25, 2018 
5.5 x 8.5 in | 300 pages
Trade Paperback: 9780995823570
Winner of the 2019 Northern Lit Award
The Miramichi Reader's "The Very Best Book Award" 2018
Most Anticipated 2018 Spring Fiction, 49th Shelf  
Jennifer Farquhar casts her intricately woven narrative net into the cold northern waters of Lake Huron and captures for the lucky reader a richly detailed story alive with mysteries, secrets, and hard-won home truths.  Once you've crossed the bridge to Mikinaak Island in the company of Watermark's brave, bedevilled heroine, you won't be able to leave.
-Terry Griggs, author of The Discovery of Honey
Watermark is a compelling, beautifully rendered portrait of island life, where deeply held family secrets intertwine with local lore and the past runs in step with the present. A gripping narrative of family love, loss and regeneration, Watermark will enthrall readers right up to the final page.
-Emily Urquhart, author of Beyond the Pale: Folklore, Family and the Mystery of Our Hidden Genes
Coloured with ghost stories and gothic elements, Jennifer Farquhar's Watermark unspools an intriguing family tragedy set in the richly detailed terrain of a Northern Ontario island. With evocative descriptions of the local terrain and traditions, the novel deeply examines the interplay between ancient and settler cultures through one woman's journey to come to terms with her past and find her true home. This story moves like waves on the long Lake Huron shoreline, building in intensity until its final satisfying end. 
-Lauren Carter, author of Swarm and This Has Nothing to Do With You
Returning to her childhood home on Mikinaak Island after a twenty year absence, Mina McInnis unravels the incidents that caused her family's disintegration. She is determined to uncover the truth about the tragedy from her past, and the presence that dwells in the cold, dark waters of Lake Huron.
Media
Kitchener Today, September 2019
Manitoulin Expositor, October 2, 2019
 About the Author
Jennifer Farquhar
Originally from Manitoulin Island, Jennifer Farquhar lives in Kitchener, Ontario where she is an elementary school teacher and mother of three young children. Her short stories have won awards in the Manitoulin Expositor and the Toronto Star. Watermark is her debut novel.
---
---
More from this collection