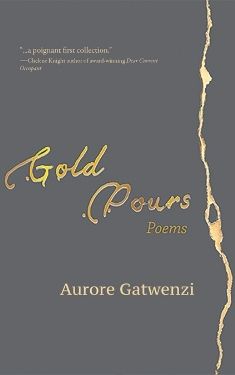 Gold Pours
Poetry
Pub Date: October 16, 2021
5 x 7.5 in | 152 pgs
Trade Paperback : 9781988989372 
e-pub: 9781988989426
"Aurore Gatwenzi's Gold Pours is a poignant first collection. The readers will feel an immediate connection to Gatwenzi's graceful reflections and introspection. This book is space to truly be. To exist inside of oneself.  
Through spiritual closeness to the body and beyond, there is dancing and movement that fills wounds with gold increasing the value of the most broken parts of us.

This book is a guide to protecting and understanding the heart. Gold definitely pours from these pages because like the author says, "this body. this vessel she is mighty."
--Chelene Knight, author of award-winning Dear Current Occupant
In this agape-informed debut by Aurore Gatwenzi, the boundary is beautifully blurred between self-reflection and prayer. Faith is infused with candour, love is elevated by grace and grief is illuminated by scripture. This is a collection about being, feeling, relationship, exaltation, suffering, worship, and the divinely creative act of recording the depths and splendour of it all. In these unflinchingly intimate poems, Gatwenzi testifies on the intricacies of existence inside "brown skin like clay" offering us a lyrical snapshot of the Black, Female, Believer Poet as "Potter's vessel / filled with authenticity". I loved reading this book. Bravo and hallelujah!
--Andrea Thompson, author of A Selected History of Soul Speak.
In this debut collection by emerging poet Aurore Gatwenzi, a stunning new voice emerges as she shares the experience of being young and Black in northern Ontario. Gold Pours is a collection of poems that talk about God, identity, heartbreak and passion. Gatwenzi's honest approach to writing exposes readers to humility, surrender and lessons learned from courageous acts of vulnerability.


About the Author
Aurore Gatwenzi describes herself as a social butterfly on the cusp of millennialism and zoomers. She holds a degree in Modern Languages and spent two years in Spain teaching English as a Second Language. She is a frequent participant in the Sudbury Poetry Slam scene and is included in the anthology Fem Grit: A Collection of Northern Voices (2020).  She is a co-founder of the Black Lives Matter Sudbury. She currently lives in Sudbury.
---
---
More from this collection