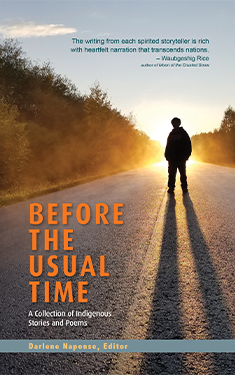 Before the Usual Time: A Collection of Indigenous Stories and Poems
Short-Fiction and Poetry
Pub Date : April 20, 2020
5.5 X 8.5 in | 144 pgs
Trade Paperback : 9781988989150
e-pub: 9781988989181
Before the Usual Time is a vibrantly eclectic anthology of strong Indigenous voices from right across Turtle Island. From poetry to creative non-fiction to speculative fiction and more, the writing from each spirited storyteller is rich with heartfelt narration that transcends nations. This collection effectively demonstrates the beautiful diversity of Indigenous voices and experiences throughout this land, and the common threads of strength and resilience that bind them through time. It is both a poignant look back and a promising look ahead. 
Before the Usual Time features contributions by:

Sherwin Bitsui                        David Groulx                       Craig Santos Perez
Chuquai Billy                           Sy Hoahwah                        Emma Petahtegoose
Emily Clarke                           Leanna Marshall                   Dennis Saddleman
Craig Commanda                   Darlene Napons                   Ardelle Sagutcheway
Jessie Fiddler                         Joan Naviyuk Kane              Cathy Smith
Lori Flinders                           Ajuawak Kapashesit     
About the Editor
Darlene Naponse
Darlene Naponse is an Anishinaabe from Atikameksheng Anishnawbek, Northern Ontario, where she was born and raised. She is a writer, independent film director, video artist, and community activist. She completed her MFA in Creative Writing at the Institute of American Indian Arts (IAIA) in Santa Fe. Several of her short stories have been published in the Yellow Medicine Review, Along the 46th Anthology, and The Malahat Review. She is currently working on a book of short stories. She works from her studio on the Rez (Atikameksheng Anishnawbek).
Media
Before the Usual Time: Local publisher puts out anthology of Indigenous writing: Sudbury.com, April 30, 2020
New book has strong northern Ontario connections
Book Review: Before the Usual Time: A Collection of Indigenous Stories and Poems (Various Authors)
Praise for Before the Usual Time                   

- Waubgeshig Rice, author of Moon of the Crusted Snow
Before the Usual Time brings together an international gathering of Indigenous creatives and visionaries, who one by one draw us into compelling, vivid realms, full of tension and dilemmata. A fully satisfying collection.
-Joanne Arnott, poet and author of  Half Sibling
A collection of words and imagery from diverse voices grounded in the land that explore community in relation to time. Filmmaker/writer, Darlene Naponse, curates a gathering of expression about time that has passed, time that is now and time that comes.
---
---
More from this collection