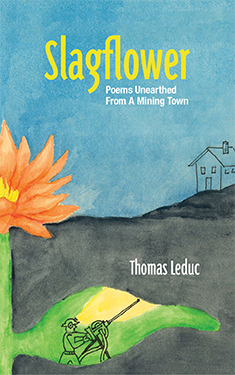 Slagflower: Poems Unearthed from a Mining Town
Poetry
Pub Date: April 15, 2019 
5.5 X 8.5 in | 100 pgs
Trade Paperback: 9781988989105
"Poet is Greek for maker which is practically a synonym for worker, and so Thomas L. Leduc is a thorough poet, i.e, a maker from and for the working-class.  Leduc's poetry—his work – ain't strip-mined, but is rooted in earth, hearth, and heart. In Slagflower, the poet retrieves true grit, the honest nugget (no fool's gold), and diamonds that are truly squeezed out of coal. Leduc is so skilled at heavy lifting, his touch is deft. You almost don't notice the toil--the hard work of making--that's produced this art, this sculpted masterpiece."
-George Elliott Clarke, 7th Parliamentary Poet Laureate (2016, 2017)
"Slagflower is a collection that delves into the poet's memories of a mining family, of people who depend upon the earth's resources and risk their lives to go to work every day. From the impact of a miner's death on his co-workers, to a daughter's love for stones and rocks, to a father's distaste for a kitchen sink made mostly of nickel, Thomas Leduc fashions a definitive sense of place, creates characters who are people we've all known and loved, and uses a warm, narrative voice to draw readers in. This debut collection of poems captures the raw beauty of the landscape, but also the difficult truths of what it means to be from a mining town in Northern Ontario. His voice is uniquely powerful because it is rooted so firmly in a lived experience of mining that has yet to be aptly captured in contemporary Canadian poetry."
-Kim Fahner, These Wings, Poet Laureate of Greater Sudbury (2016-2018)
"Plain-spoken yet beautifully crafted, these poems resound with deep history and authentic feeling. Gripping–I read them in one sitting." 
-Susan McMaster, poet and editor
Slagflower is the story of a fourth generation son of miners and his journey beyond the world underground. It's the story on a city struggling to grow beyond its past and become more than just a mining city. It's the story of everyone's struggle to be more than their family history, more than their past. It's the story of breaking through the earth and into the light.
Media
Slagflower: Poems Unearthed From A Mining Town by Thomas Leduc: Review
Slagflower: Poems Unearthed from a Mining Town released by Sudbury's Tom Leduc: CBC News, June 02, 2019
Thomas Leduc's Debut Poetry Collection Examines Family, Transformation, & Northern Ontario's Evolving Identity: Open Book, July 22, 2019
About the Author 
Thomas L. Leduc
Thomas L. Leduc is the descendant of four generations of miners and works at an industrial supply company in Sudbury.His poetry and writing has been appeared in anthologies and magazines in Canada and the U.S.
Thomas was Poet Laureate of the City of Greater Sudbury between 2014 and 2016. He is President of the Sudbury Writers' Guild. He lives in Sudbury with his wife and two children.
---
---
More from this collection